E-Commerce, the shopfront that matters. No matter what industry you're in, you're probably hungry for cashflow right now. 
With a monumental switch to online and digital activity, your brand's E-Commerce is more important than ever. In the current COVID-19 climate, according to Adobe, the retail sector's pain is the digital retailer's gain. Adobe recorded increases as high as 817% in hygiene product sales from its top E-Commerce clients. 
Lately, at YEWS, we've been speaking a lot about digital strategies from email marketing campaigns to the video and webinar communication switch. 
Let's get straight to it, E-Commerce is key to driving cashflow. 
Here are the Top 5 Reasons You Need WooCommerce:
It's Seamless – End-to-End
What do you and client have in common? You both avoid excessive admin.  In our experience, we find that small businesses can't afford the time or hassle to process unnecessary paperwork. 
Put the Woo in Woo-Commerce by storing card details of your clients and allow them to store theirs somewhere safe, secure without the hassle of filling out multiple forms. 
Digitising this part of the sign-up or enquiry is better for everyone. Online forms are efficient. They help us to avoid messy handwriting mistakes and minimise human error. Seamless.
2. It Drives Conversion 
Here at YEWS, we're all about the conversion numbers. 
Conversion statistics are great for transparency, accountability and ultimately, better service delivery. 
 We love these examples from 1) Miyagi and 2) Capture Fit because they provide a single offer.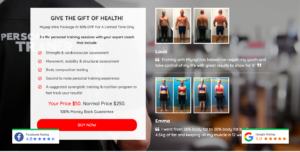 To know how digital traffic is moving through your page, Conversion + Landing Pages go hand-in-hand. 
Single-step navigation is the most effective way to ensure that customers don't get distracted, lost or swept up by the next ranking competitor in the Google Business Listing.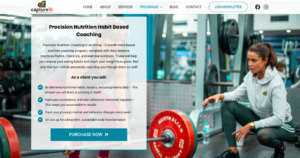 Much more likely to drive purchase than information/option overload is a simplified pathway to the Click-Through. 
3. Faster Payment Times
Does payment to your bank within 48 Hours sound good? WooCommerce's purposely built Stripe payment system is quick, easy, secure and efficient in payment processing. 
Nothing is better for cashflow than payment. Stripe makes you wonder how you ever processed payment any other way? 
4. How Clients Pay is Just as Important as What Clients Pay. 
As consumers we're all used to hearing, how would you like to pay for this? For your digital consumer, it should be no different. 
Your clients are probably used to having some flexibility in their choices. WooCommerce leverages the customer experience because it enables:
Direct, Immediate Product and Service Sales 

Gift Cards

Payment Plans (e.g. buy now, pay later)

Coupons, Free Trials, Demo's and Subscriptions 
Direct, Immediate Product and Service Sales 
Imagine getting payment the moment the item or the service is bought. In a perfect world, this would be the new normal for every business. For now, let eCommerce drive that immediacy with 'Click to Purchase' functionality. 
Gift Cards
Gift Cards are an excellent incentive to boost cashflow and fortify engagement with your target audience. Clearly, if someone is willing to buy your product or service as a gift for someone, they like what you're offering. 
For you, they're not only great for driving cash flow, as mentioned, but also for getting the contact details of the purchaser and for the gift card recipient. 
Payment Plans (e.g. buy now, pay later)
Give your clients flexibility in how they pay. Paying in a lump sum is often overwhelming but payment plans, on the other hand, can be a lot more achievable and therefore, convertible. 
With the sophistication of WooCommerce's Stripe, payment is quick and clients' details securely stored. With options like direct debits, partial payment and subscription services, incremental payment methods have certainly come a long way since the days of Lay-By. 
Coupons, Free Trials, Demo's and Subscriptions 
Track the success of your email campaign, landing page, referrals or social media campaigns with a specific coupon. Even if they don't get to purchase at checkout, the coupon will deliver some excellent details about their traffic, engagement and contact information.
ECommerce encourages the consumer to enter their details first, so no matter what happens between landing and checkout, you'll get a chance to speak to that customer again. 
Don't lose valuable information with lost leads. Store future re-marketing contacts when customers exit or abandon their cart. 
Freemium on eCommerce: most customers will probably close out of pop-ups. That is, for example, exiting from an option to 'sign up for our newsletter'.
On the flip side, give them something for free and they are much more likely to provide their email. Even better, WooCommerce suggest offering them a discount as they leave to direct back to checkout. 
5. If You Don't Like It – You Can Fix It 
Unlike physical shop-fittings that are costly, seasonal and quickly suffer from wear and tear, ECommerce is like a front door to your business. 
Why you'll love the flexibility of eCommerce:
Update changes quickly. 

Choose who you're targeting.

Create time-limited offers, banners and online forms. 

Switch up your strategy – look at your conversion and adapt your offer
WooCommerce enables ECommerce Functionality + Versatility.

If you are looking to explore any of these avenues and unsure of where to start, get in touch with us for a free online consultation.