Building inspections business benefits from landing page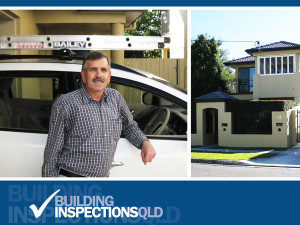 Building Inspections QLD is a business established by former builder Kevin Denison. The business offers pre-purchase building and pest inspections in Brisbane. With over 30 years experience Kevin provides detailed property inspections reports to property buyers. His point of difference is that he does this at fairly competitive price and reports are done on the same day. From the reports Kevin spends the time to go through the report with each individual customer.
One of the goals that Kevin had was to be able to get leads from areas that aren't too far to travel. Previously he would get enquiries from customers in different areas across Brisbane. This made his service delivery with same day reports difficult.
While Kevin's sales conversion rate has been okay, he wanted to get better quality enquiries. The motivation behind this is that his selling point is same day inspections. Being able to speed up the sales process and schedule clients more efficiently would be a big game changer.
At the end of April we created a new landing page and launched new campaign in May. The results have been astonishing. The rate of enquiries (5 in April) has quadrupled (21 in May) while the monthly cost has not changed (below $800). Also, the majority of his enquiries came from 5km radius of where he lives.
Whilst there are seasonal aspects that may apply to business like Kevin's, this is a great example of how a landing page can significantly improve outcome. Landing page does not need to be complicated; in fact simplifying is what makes it effective.
What did we do different:
New location targeting
Given the nature of Kevin's sales process and customer locations, we've applied specific ad targeting. This included not only focusing on the key areas, but also excluding some of the areas.
New landing page
We built a new landing page on based on the information that was on the already on the website, but wasn't easily seen. The "Why Choose Us" section helped to address some of the customer needs and wants which we believe is crucial to getting higher conversions.
New ads
We created new ads to reflect the business better and also researched competitors. Having found that most of competitors have a similar offer, it was important to establish a point of difference.
Time allocation
From the data obtained, we found that most of the enquiries occurred at certain time of the day. Having this information allows us to maximise on this opportunity.
Need Help?
Not sure if landing page is something that can help your business? Make an enquiry to request obligation-free consultation, to see how landing pages can help you and find out why they are so effective.