What it means to truly elevate your service delivery with digital adaptation:
Showcasing Rave Reviews, Flexible Payment and Delivery
679% Increase in Revenue Thanks to eCommerce
Bring on the Leading Questions – "Call Now"
Customer Service for Shoppers 24/7.
YEWS: we take the hassle out of digital so you can focus on the results
A local Brisbane Computer Retailer adapted digitally a while back and they've only seen growth ever since. Post-COVID-19, reluctance to digital adaptation is no longer an option. In this new normal, your digital presence is a must-have whether you want to simply survive or to thrive. As a results-driven agency we'll always choose the latter. Would you like to learn how to increase your revenue six-fold with digital adaptability? Read on. 
This Brisbane based retailer has always delivered excellent service to its customers. The problem is, as a supplier of tech and gaming products, the market was, and now- more than ever – is heavily matured and competitive, both in pricing and customer loyalty promotion.
It's time to stand out from the crowd… 
$1 Ad Spend = $1400 ROI.
This is why they needed digital marketing. Through e-Commerce, Paid Google Ads (including shopping verticals) and Google Business Listings, this retailer's online store began to soar. In May 2020, the business reported to us being busier than ever in spite of COVID-19 downturn experienced elsewhere. This month, the company is on track to meet and possibly exceed the $4.3 million made in May 2020. On average, the business now makes $1,400 for every $1 of budget spend. 
At YEWS, we know we're not the only marketing company offering digital marketing services. The key for us in Making Small Businesses Grow Big is that we not only help our clients to identify their point of difference, but put at the centre of our marketing strategy. 
Showcasing Rave Reviews, Flexible Payment and Delivery 
For this Brisbane IT, Computer and Software Retailer it was important that their excellent service was emphasised. We optimised their Google Business listing by showcasing the variety of information with which they support their clients. 
Think: online, delivery, payment plans, excellent range of product & services and 4+ star reviews.
Bring On the Leading Questions – "Call Now"
Additionally, for expensive products like computers customers need questions answered. That's why we've tracked over 400 calls directly from paid Google Ads. This touch-point for service generally produces very effective leads. 
Customer Service for Shoppers 24/7
An additional capability their business needed was 24 hour shopping access. This is because our analysis indicated that some of their most loyal buyers are researching & shopping online on evenings, late at night and on weekends. 
679% Increase in Revenue Thanks to eCommerce
In the eCommerce store, an increase in Ad Spend of 150% has yielded a 679% increase in revenue. How do we know all this? Our advanced tracking systems isolate and deliver accurate data about which attributes (that is, in other words, pathways taken on the customer journey) led to which online conversion, phone call and in-store purchase.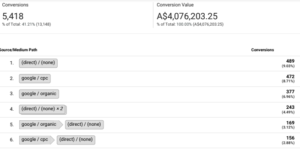 You can see here the most common source of conversion is direct through the website "(direct)/(none)", followed by Google Ads "google / cpc", followed by unpaid Google search "google / organic". Re-marketing to these researchers can really advance the customer journey towards a sales outcome. 
Sometimes people need to check research more extensively and revisit the website as seen in No.4. For these, you can see that the more expensive purchases required more extensive searching. 
YEWS Service Guarantee
Most importantly, at YEWS we're transparent. At every step of the way we've shared the progress reports and worked with our client to deliver the most enticing offer, demonstrate service quality and ensure that their enormous product range gets in front of the right people. (High impression, conversion & leads).
Digital marketing strategies not only help our clients to identify their competitive advantage but sustain it. Can you imagine a technological service that didn't compete by leading the market? Neither can we. We are lucky to work for businesses that constantly seek to evolve their product and client services. Our job is simply to ensure that, when the next potential customer is searching, our client's services are cherry-picked. 
Whether you're looking to recover from COVID-19 or to simply future-proof your business with new digital capabilities, we take the hassle out of digital so that you can focus on results.