Did You Know That Mobile Traffic Has Grown by 192.5% Just In The Last 3 Years?
What this simply means is that if your website is not mobile optimised, you are missing out on business.
Just ask yourself, how often do you use your mobile phone to look something up? Especially if you are on the go and you urgently need to find something.
Having a website is a huge step forward, however having it optimised for mobile really makes the user experience more pleasant. What this means is that people can find the information they are looking for more effectively.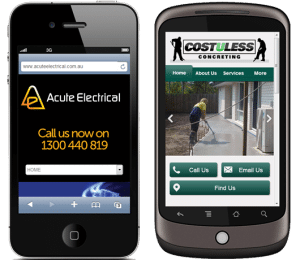 This is what Google has to say about this:
"As consumers increasingly turn to their mobile phones, it is critical for businesses to understand the range of "mobile conversions" that can occur, such as phone calls, store visits, or purchases on other devices. In partnership with Nielsen, Google analyzed over 6000 mobile searches and the actions that resulted, drawing precise and measurable connections between mobile searches and the online and offline conversions that they drive."
– Source Google Think