If you're stuck trying to come up with a better offer, don't worry, this guide is full of creative offers packed with purpose.
2020 is a year like no other. Financially we've seen stocks yo-yoing, had predictions of U-shaped, L-shaped and V-shaped economic recovery. When it comes to offers, the most important thing is to start with is 'Why'. 
The humble offer doesn't need a calendar date (i.e. Black Friday, Boxing Day or EOFY) to beckon its summons. The most important thing about designing your offer is to ensure that it is designed by the outcome. 
Here are some ideas for your next offer.
Top of Funnel 
As you're building awareness and trying to generate leads, these offers are like the bait on a hook. You want to overcome consumer hesitation, entice commitment and give them something in return as soon as possible, if not instantly. 
1.Building Your Email List and/or Social Media Sign-Ups on Sponsored AdsCompetitions
i.e. 'Enter your email for your chance to win'
Please note, competitions are regulated, so ensure that you are compliant with the conditions.
You can use the announcement of the winner to reach your customers and offer another discount (e.g. 10 to 15% off) to make them feel like they won something anyway. 
2. Limited Time Offer i.e. 'Enter your email to take part in our Flash Sale – discount code ends at Midnight'
Time limits are a great way to get the ball rolling. If customers have a chance to walk away, they may forget  to come back. Not only this, but the offer increases the feeling that they are getting value for a service personalised to them.
3. Become a VIP Member and Receive…
Member-discount (eg. Become a member (repeat revenue) and get 15% OFF, reserved storage spot etc). 
Loyalty discounts are everywhere, so the incentive is essential. For one Brisbane based electronics retailer this simple maneuver boosted monthly profits by 10%. Learn more here. 
Here is an example of Audible offering 2 Months free to new customers.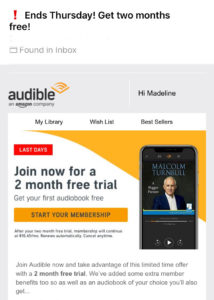 4. Winning New Customers & Re-marketing To Recent Customers
5. Service Coupon for Buy Now price (think Groupon etc.)
Buy Now Price (and use later) deliver value and boost cash flow instantaneously. A fantastic benefit of this is the consumer memory can be short-term, so customers will often be more receptive to add-on's at the time of purchase. Highly effective in getting people in the door and back again, these sorts of offers are what make Groupon worth a staggering $US681.26M.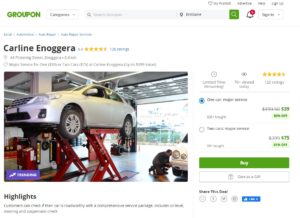 6. One Month Free 
"Criteria-based discount eg. One Month Free (when signing up to 6 months or more)"
7. Price Match
Price-beat (eg. If you find a better deal, we'll beat it by X)
These types of offers are great for flexing to competitors. We've all heard the price match guarantee ad from Bunnings but how often do you take in an item to test this? This demonstrates the awareness that can built from a branded offer.

Middle of the Funnel
So you've generated some leads, nurtured awareness of your brand and/or products, it's time to nurture purchase intent. These offers are your irresistible offers. 
Value-add eg. Professional detail at time of pickup (conditions apply)
8. Premium offer at regular price (eg. Get Cover and Battery charge and membership at regular rate)
Encouraging Conversion eCommerce, Google Shopping and Social Media Shopping
9. $ Amount off
10. Percentage off
11. Free Gift, Upgrade of Bonus
Everyone loves an offer. Capture the attention of new customers or re-engage with personalised re-marketing. These are even better with a time limitation. See the the coupon below for New Look.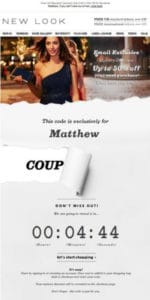 Bottom of the Funnel 
12. Free Shipping
13. Free Returns
These offers remove the hurdle between shop and checkout and reassure customers feeling uncertain. Did you know that unexpected shipping costs can trigger 28% of shoppers to abandon their shopping cart? 
14. Buy More – Save More i.e. save 20% when you buy $50 or more. 
15. BOGOF (Buy One Get One Free)
These can be used at any stage of the marketing funnel, even in your Google Ad texts to attract clicks. They're also great at the bottom of the funnel as a pop-up from the checkout page.
We hope you find these ideas helpful as a creative guide for your next campaign. Don't forget to  test the success of these by adding UTM codes and tracking through Google Analytics. 
So, what have you got to offer?
Remember: 
Don't discount, offer a percentage off and deliver value. 

Stop shouting to the masses. Find your niche by re-marketing to leads across channels. 

Encourage but don't expect the instant buy. Cart abandonment is soaring. Support the customer journey with opportunities to call you, get extra service, offer payment plans, payment options and then re-marketing. 

Follow-up the follow-up with Email campaigns. 

Offers can happen all year. What you gleam from sales behaviour can be used to inform and design future campaigns. We love the count-down of this email re-targeting campaign.  
If you would like some more information, please get in touch with our friendly team, today!