Social Media Advertising and Channel Management 
It's all about brand identity – it helps you to identify with your target market 

It's not what you say, but how you say it. 

Start with the outcome in mind and work backwards.

Use social media to remarket – pivot your strategy

Remember the basics: new channel, same business. 
Social media is more complicated than it looks. Your social media presence is key to establishing your brand personality: too bland and you won't get noticed. Too unoriginal and you might get forgotten. When it's well-executed, on the other hand, social media is the social connection to your brand. Great social media ads can attract new users, pique their interest and can even be used to remarket to saved audiences.  
Did you know that nearly half of the world's population is on social media? This does not mean, however, that the ~4.5 billion on social media are potential leads. Knowing your brand identity is key to knowing how to attract leads through social media ads and convey meaning through social media channels.  Social media might relatively new to the digital marketing matrix but don't forget the basics. 
Your marketing campaigns should always play to your strengths. A social media advertisement doesn't just need to be for promo's, it can advertise an existing service through a different message. 
Step 1. Know your Voice.
Key to understanding social media is understanding what will stop the scroll. 
Social media = social connection. Always think about how you'd speak to a customer or client face-to-face and let that guide how you'd speak to them online. 
Each channel, ad and brand has its own identity. So, developing how you can understanding the difference between channels and defining your brand will not only make your messaging stand out from the crowd, it could be the difference between a lead and a conversion. 
Remember: social media management and community engagement need a separate strategy from social media advertising. 
What is Social Proof?
Businesses can no longer rely on someone to walk through the doors to gain trust. Instead, social media builds social proof – this is fundamental to the beginning of the customer journey. 
Use social media channels to show the quality of your service – don't just tell them about it. 
Reviews and community engagement tell your success in numbers or 'stars'. A new customer might have seen one of your sponsored ads. Before they click-through, they'll probably check your page to see how many likes or followers to form their decision.  Social Media provides social proof around your business's reliability and trustworthiness for first-time consumers.
E-Commerce and Social Media Go Hand-in-Hand 
If you're about to run a social media campaign, make sure your e-commerce page is set up. If there is one lasting lesson from COVID-19 it's that e-commerce is the new business essential. 
Impress your customers with social proof and encourage click through to shop. Our advice? Make sure your e-comm website has a unique URL or landing page from the ads to keep the click-through-rate (CTR) data clean. 
Step 2. Define your Outcome.
Are you hoping to achieve sales? Website traffic? Build a new contact list? Start here and allocate your budget wisely.
'If you're hoping to put a $100 boost on a Facebook post and get results, prepare to be disappointed.'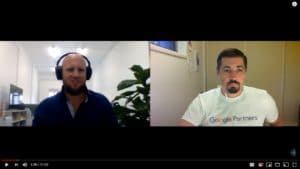 Scott Mackenroth from Click Media Solutions delivering hard truths in a recent podcast with Alexei.  
A successful Social Media marketing strategy depends on knowing your purpose and what outcome you're expecting to achieve. 
Step 3. Re-marketing is Always an Option 
Social Media advertising is highly adaptable to your needs. The great thing about social media is that you can change your message and target market quickly. 
Zac Daunt from TENASU talks about the power of the pivot, with one of his clients whose supplement brand needed to shift to adapt to COVID-19:
Noting the absence of gym supplies such as dumbbells, to meet the demand for home workouts, his client created YouTube workout videos using high-intensity elasticated bands. Strengthening his brand, delivering an alternative solution and boosting traffic to the page, this social media content could be used in future sponsored campaigns on channels such as Facebook and Instagram. 
This is a great example of how to pivot your strategy with minimal tweaks to the content. 
Did you know that if people engage in any of your posts on Facebook or Instagram you can remarket to them? Scott Mackenroth tells us that if people watch 10, 20 or 50% of your videos you can remarket to them. This is a great way to build lists. Further down the track, it could be the basis for future email campaign(s) and help accelerate the consumer journey through the sales funnel. 
This is great for future marketing campaigns but, remember, engaging content starts at square one: knowing your voice, then defining your outcome and re-market – rinse and repeat. 
—-
Learning how to convey and to deliver value to your brand's current and future customers is the most important way to find leads. Therefore, knowing how and when to use social media is the difference between a wasted ad spend and meaningful, convertible leads. 
If you would like to learn more, please don't hesitate to get in touch with one of our team members.