Want to Dominate Your Niche Market Online?
Picking a niche in an industry is what differentiates a specialist from a generalist type of business. Besides this, the niche approach is also favoured by Google. Let me explain why…
Google likes niche sites because:
Content is a lot more relevant on niche specific sites
The click-through rate (CTR) for niche sites is higher
The audience is more specific and has higher intent
I won't bore you with the backlinking and SEO stuff, but trust me that when it comes to ranking in Google niche sites always outperform general sites. Some may argue this, but the results speak for themselves without having to pour thousands of dollars into SEO processes. We call these sites niche websites while others refer to them as mini sites.
Here are some examples of our niche sites:
HighNRG – Bootcamp Toowoomba
The owner of HighNRG Suzi Rubb came to us a while back for website development. We've organised the website and also recommended running a niche website for a part of her business that she wanted to promote. Suzi used bootcamps as a vehicle to get personal training clients whilst also running this as a profitable service which is very numbers-dependent.
We've secured a domain called toowoombabootcamps.com.au and made it specific to boot camps. This required providing service-specific information like Timetable, FAQ, Gallery and training location details. Within a month Google indexed this page and the ranks started climbing up. Here are the current results for "bootcamp toowoomba" (or "boot camp toowoomba"):
Tatjana Alterations to Wedding Alterations Brisbane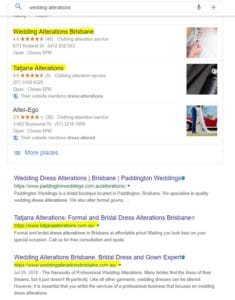 Tatjana Alterations started off as a alterations service type of business. They did not specialise in anything in particular which resulted in working with many non-ideal clients. Those clients did not pay well while the amount of work to serve those clients was almost the same as wedding alterations clients. We've set up another website called 
Wedding Alterations Brisbane
 and started marketing it with Google Ads. The conversion immediately went up and the client enquiries became more specific, which allowed identifying further sub-niches (eg. wedding gowns, suit alterations).
Tatjana Alterations business has totally changed direction to focus on just one of its many types of customers. The end result is that they get better leads via ranking multiple times in Google for both of their business listings.
Salerno Law's Conveyancing Solicitors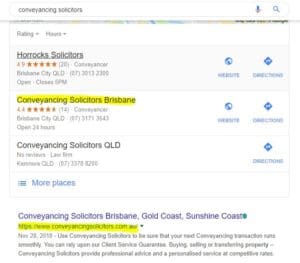 Salerno Law purchased 
conveyancingsolicitors.com.au
 and engaged us in promoting the conveyancing side of their business. With a number of offices across the south-east Queensland region, we set up individual Google Business listings to promote the business locally. The result is that this particular website ranks well across all regions (Brisbane, Gold Coast and Sunshine Coast) when searched for conveyancing solicitors and variations of the keyword. The enquiries generated are very specific and most convert well.
This one is a lot more competitive and did start to require SEO recently due to very aggressive competitors.
Do You Have A Niche You Wish To Promote?
If you have a distinct niche in your business that you would like to market, give us a call. We would like to discuss your business and sales processes and see if niche sites can help. While the overall process is not overly complicated, it is important that everything is set up correctly in order for niche sites to work.

Is there a keyword that trends in your Google Ads? Do you have a keyword rich domain name? Do you service an area specific market? These are the types of questions we would like to discuss with you to see if niche sites are right for you.