Campaign Targeting Optimisation For Search, Display, Shopping and YouTube Ads.
*Formerly AdWords
In YEWS Google Ads Masterclass today, we will talk about a few more targeting options below. It helps to generate quality traffic to your campaigns by displaying your ads to the right people at the right time and right place, and also, stop paying those low return of investment (ROI) keywords.
Location Targeting

Ad Schedule

Device Targeting

Demographic Targeting

Audience Targeting
Once you apply above targetings to your campaigns, it will results in several crucial benefits:
Higher click-through rate (CTR)

Lower Cost Per Click (CPC)

Higher Quality Score (QS)

Higher Conversion Rate (CVR)
Below, I will explain how to set up each targeting option to help you get better outcomes so you can easily apply it to yours. I will use our physio, dentists and earthmoving Google Ads campaigns for the next examples.
Location Targeting

Location targeting allows you to target specific geographic locations such as countries, states, cities, suburbs, or target radius around a location. It helps your advertising budget to focus on a certain area where you will find potential customers and exclude poor quality or irrelevant leads. This targeting will also help increase your overall ROI.

How & Where to Set Up
To Start, we want to go to (1) settings tab, (2) location, (3) enter another location, and then (4) advanced search. Now you can decide which location you want to target and which location you want to exclude. In the location targeting page, you can also do radius targeting or simply turn on "show all areas", which shows you each suburb when you scroll close to you target location.

For example, you own a physio clinic and most of your customers are from the surrounding 15km of the clinic's location. So you will target suburbs around you within a 15km radius.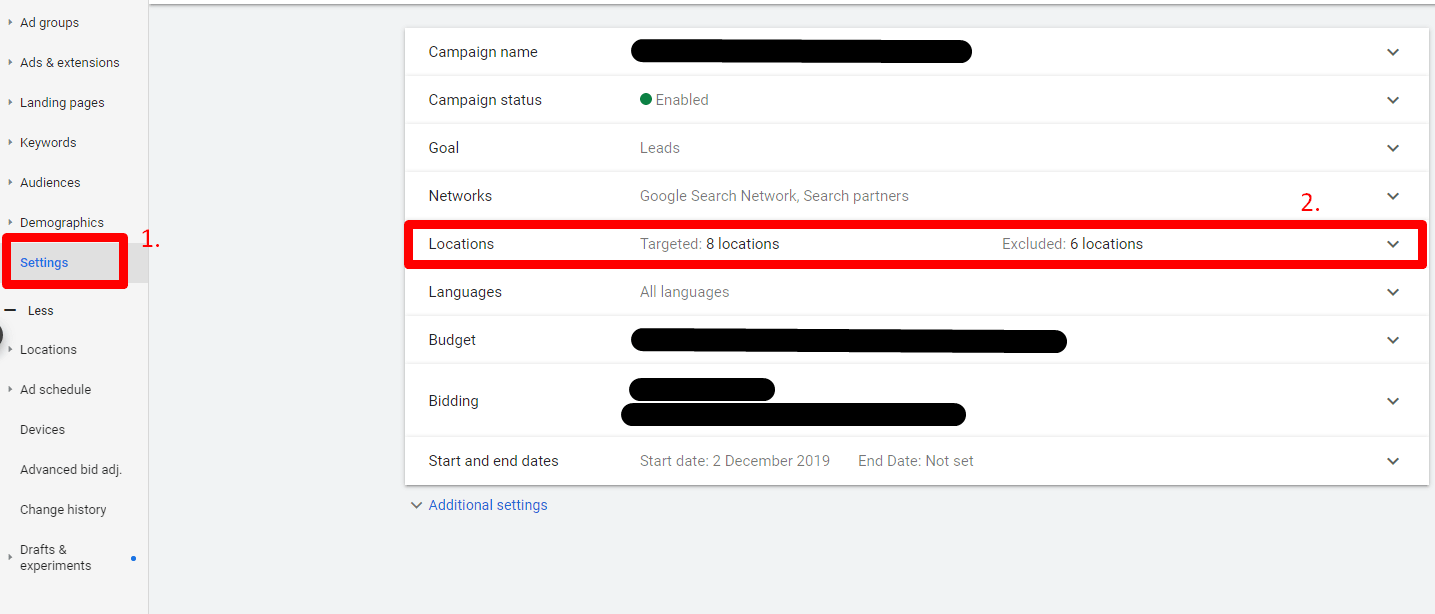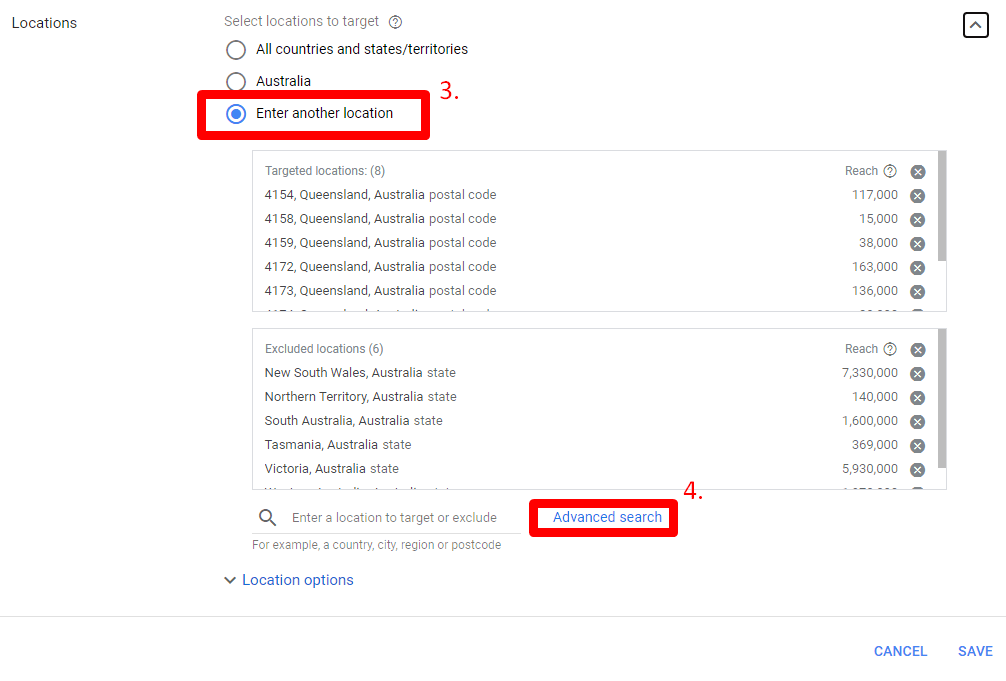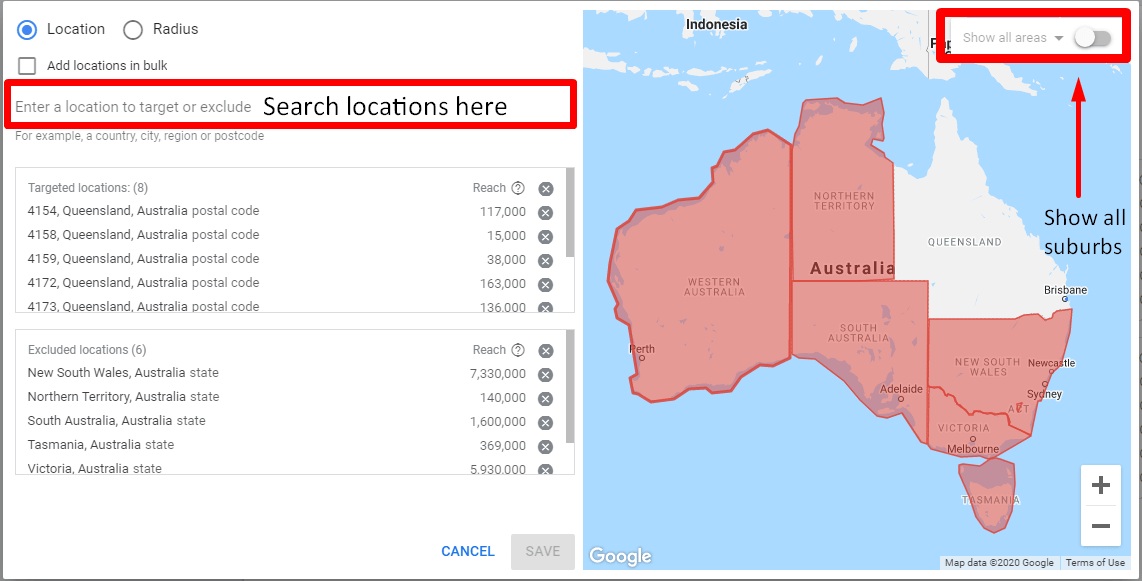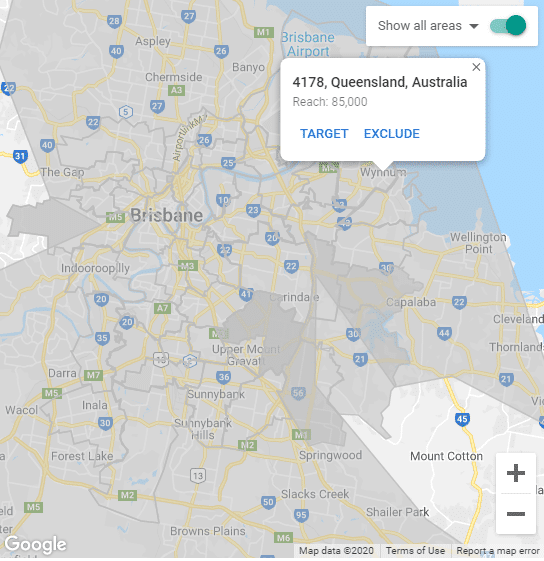 Ad Schedule

You may want to show the ads during operating hours so you can get back to phone calls or email enquiries as soon as possible (trust me timing makes a big difference to your customers!). You may also want to show your ads on the high conversion hours and days.

For example, if your target audience are working Mum's, getting their children ready for school they probably won't have time to search for your service or products. Instead, you can schedule your ads to run at lunch time when they have a chance to slow down.

How & Where to Set Up


Device Targeting

With device targeting, you can set different target bid adjustments for desktops, tablets, mobiles, TV screens. However, I won't suggest doing this at the very beginning of the campaigns until you have sufficient data to make decisions.

How & Where to Set Up

Demographic Targeting

With demographic targeting, you set your ads to only reach a certain group of people based on age, gender and household income.

For example, you are running a dental clinic, and you know that mums are the decision makers when it comes to dental related things for the family. Therefore, you could target women of a certain age and exclude men altogether.

How & Where to Set Up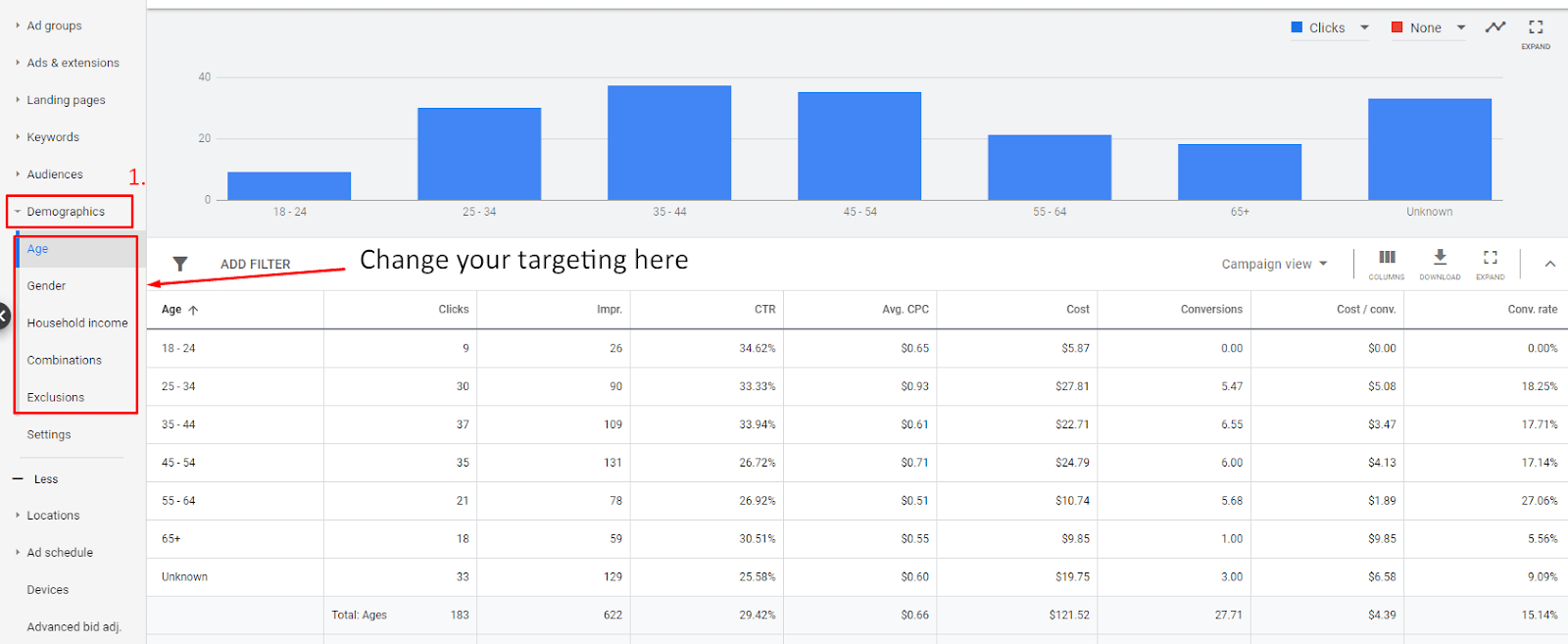 Audience Targeting

With audience targeting, you can add 1) detailed demographics (who), 2) Affinity audiences (interests & habits), 3) In-market audiences (actively researching & planning), and 4) remarketing and similar audiences (have interacted with your business). With the remarketing audiences, please keep in mind that there are many restrictions from Google so you will need to read the Google ad policies to avoid any disapproval.

For example, you are running an earthmoving company, you may want to target the audiences who are actively searching for construction related services, home improvement and maintenance or elect to remarket to customers that have recently abandoned checked out items.

How & Where to Set Up
I believe that you have a better understanding of different targeting options in Google Ads. All you need to do now is to set this up and you will start to see better quality traffic as well as better ROI from your Google Ads campaigns! If you have any questions, please get in contact with myself or a member of the team.