You have set up your Google Ads account and campaigns. Now, you may wonder what is the next step and how to make it work, and what is involved? Don't worry, we're here to help. Beyond the set-up phase, to improve your results and optimise your campaign, I will be sharing some of my techniques and experience.
Structure
Building a successful Google Ads account is like building a skyscraper. You will need a plan first, around which you can structure the building and give it the strongest possible foundation. Below, it is how it may look.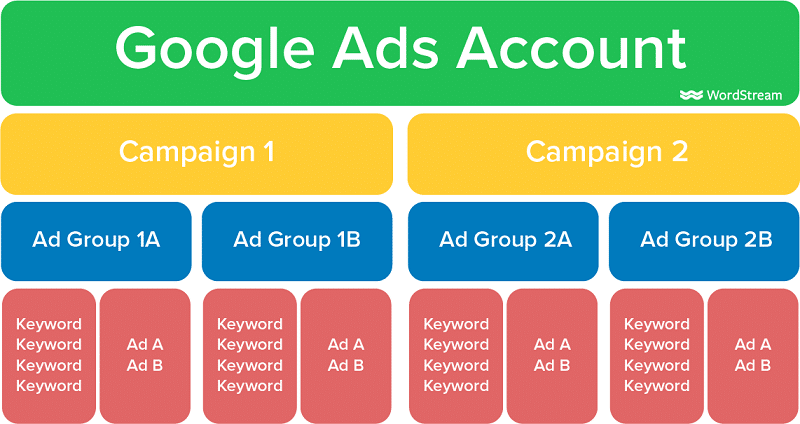 Source: WordStream
As you can see, there are six parts of Google Ads account structure:
Account level – The basement of the skyscraper and parking.

Campaign level – The foundation of skyscraper

Ad group level – The skyscraper.

Keyword – An interior decoration inside every single room of the skyscraper.

Ad copy – An exterior design outside of the skyscraper.

Ad extension – Facilities inside of the skyscraper to make it more appealing
Now you know how to structure and build the Google Ads campaigns. Let's start how to optimise it to drive more leads and sales towards your business!
The three factors below are key to optimising your campaign:
Quality Score
Keyword
Ad Copy
Here's why:
1. Quality Score
Quality score is how Google rates your keywords, based on 3 different factors, which Google tells us are:
Expected CTR,

Landing page quality and relevance,

Relevance of your ad copy.
There also two more factors may affect your keyword's quality score based on my experience:
The relevance of each keyword to its ad group,

Your historical performance in Google Ads account.
Source: WordStream
You may wonder what are the benefits of improving quality scores? To put it simply, it will reduce your cost per click so you can pay less for clicks at the same position as other competitors and also higher return of investment (ROI).
2. Keywords
Google Ads keywords are used to match your ads with the terms people are searching for on Google search engine. Therefore, choosing relevant keywords for your campaign will result in better outcomes because it only shows your ads to your ideal customers.
I usually use keywords planner and check the actual Google search results to do my keyword research. Once I get enough data, I will check the search terms in Google Ads campaign and either add new keywords or pause not performing one.
There are also 4 keyword match types which can be used to target people more precisely
Broad Match – No special symbol

Broad Match Modifier (-) or (+) Keyword

Phrase Match – "Keyword"

Exact Match – [Keyword]
The benefits of fine-tuning keywords is that it helps reduce wasted cost from showing ads to the wrong or irrelevant audiences.
3. Ad Copy
Ad copy is what you can tell your target audience why they should choose you instead. There are 4 parts of the copy. It also has character limitations for each section.
Headline – Maximum 30 characters and you can have 3 headlines in one ad.

Description – Maximum 90 characters and you have 2 descriptions in one ad.

URL Path – Maximum 15 characters and you can have 2 paths in one ad.

Final URL – The destination URL after people click your ad.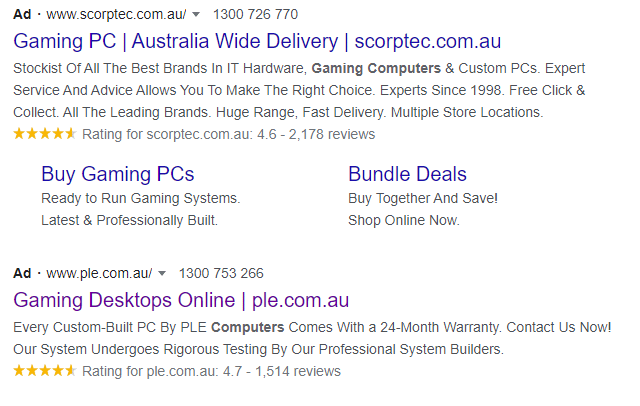 There are 3 different ad types of text ads.
Expanded Text Ad (ETA) – Most common used ad type with 3 headlines and 2 descriptions

Responsive Search Ad (RSA) – You can have up to 15 headlines and 4 descriptions and Google will come up with different ad combinations based on what you provided.

Dynamic Search Ad (DSA) – Google will based on your website automatically generate ad variations.
It can be a challenge sometimes to write good Ad Copy, especially, with Google's limitations. However, an appealing ad copy can not only filter irrelevant clicks, but also, bring more leads or sales. I usually write 3 different ETA ad variations and 1 RSA and play around with different wording based on the interaction and results. Below are a few components, which I usually include in my ad copy.
Point Of Differences

Call-To-Action (CTA)

Offers
Okay, I believe, with the implementation of a good structure, and a bit of time and effort on the crafting the above three factors, you will see better Google Ads results. I hope all of this is helping you to achieve the next level of success on your Google Ads.
In the next blog post, I will share some Google Ads targeting options and how to refine it to get better results for your campaigns!