Free Learning Session From The Team
Sick of eCommerce costing time and money but not delivering revenue?  Looking for eCommerce tactics that actually work?  
This presentation will show you how we've been able to help local businesses grow beyond 3800% Return On Ad Spend (ROAS). That's $38 return for every $1 spent on ads. Sound good?
This is an invitation-only event, so please don't forget to RSVP.
If you are running an eCommerce business, this is an opportunity you won't want to miss.
Event Date
17 March 2021 - 12:30 PM
Address: CLIK Collective Building,
15 Cochranes Rd, Moorabbin Vic 3189
Presentation Will Focus On
Google Ads's AI
Product feed optimisation
What's available for eCommerce businesses with Google Ads
Some basic data analysis in Google Analytics
Keeping your digital agency accountable
Speaker at CLIK Collective Learning Session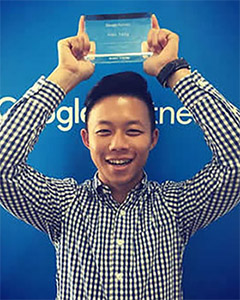 KAI YANG
Digital Marketing Strategist

Kai Yang from Your Easy Web Solutions is a digital marketing strategist who specialises in ROAS campaign optimisation. In the past 12 months, he's become the lead marketing strategist for Google Premier Partner, YEWS, helping local and international businesses reach whole new levels.
Kai is flying from Brisbane to do this exclusive presentation where he will be sharing some of the key tips, tools and techniques.
Kai holds a masters degree in strategic advertising from Queensland University of Technology. When he's not reading four books per week, he spends his free time surfing, hiking, reading, and training Brazilian Jiu-Jitsu.
He has received multiple Google Ads Specialist Challenge awards. Leveraging Google Ads Strategy to future-proof eCommerce against all kinds of market unknowns – even a pandemic.
One of his recent achievements is growing a local eCommerce business' revenue from $2 million to $4.5 million per month in the face of a global lockdown.