Black Friday madness: 719% more sales in just one month. With results like these, you could be mistaken for thinking Spicy is a lot more mature than its 2020 birth year. 
The brand is quickly accelerating. Its clever marketing emulates the company purpose: exposure and customer experience.
What is Spicy Baboon 
What Sets Spicy Apart 
Increased Online Shopping = Opportunity
Remarketing: the Key To Exposure
How To Achieve Growth & Exposure
Here is a guide to Black Friday Success with Spicy Baboon.
What is Spicy Baboon? 
Spicy Baboon is self-described as, 'Just a bunch of monkeys slinging meme merchandise.' Aussie designed, owned & delivered, the Brisbane-based team specialise in the 'spiciest meme merch'. With an in-house team of talented, Aussie designers, the products are visually pleasing, humorous and crude – all at the same time. Irresistibly shareable by nature, they are an ideal gift. 
What Sets Spicy Apart?
First and foremost, Spicy delivers gifts that aren't boring. 

Locally designed and printed merchandise. 

Premium, quality control: drilling right down to in house supply-chain.

 A combination of an unforgettable name, unforgettable service and unforgettable designs… 
Designs, like the best-selling, Big Barry UNCENSORED are so unforgettable, they cannot be unseen.
Perhaps the most surprising thing the brand has uncovered is the Australians' unwavering willingness to wear or carry some of the Internet's most absurd memes. 
Realising Increased Online Shopping Behaviour In 2020 = Opportunity 
In the face of a global pandemic, Spicy Baboon could have easily fallen victim to the morbid economic forecasts, but instead launched a whole new company. Like a meme-merchandise-phoenix rising from the ashes of COVID-19, Spicy realised an opportunity in increased online shopping behaviour. 
Reaching New Customers
By leveraging combined Facebook and Google marketing strategies, Spicy has reached thousands of new customers. On Cyber Monday, we tracked a 300% increase in new website visitors over just one week.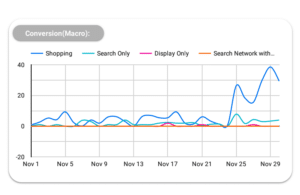 A combination of Facebook Ads, Google Shopping and Search Ads accelerated the exposure for the brand. Colourful, funny and recognisably 'Spicy', Scott tells us, the winning combination of Facebook Ads and Google Shopping Ads really attract attention.
When the team at Spicy approached YEWS about Google Ads, it was quickly established that the goal was to maximise exposure for ad dollars spent. 
Remarketing: the Key to a Second, Spicy Impression
For this reason, Google Shopping ads would optimise Return On Ad Spend. Additionally, through Google Shop, there is unparalleled potential for remarketing through to website visitors. This, giving Spicy a second opportunity to leave a lasting impression. 
It's All About Growth & Exposure
Why? Spicy Baboon is focussed on growing customers and evolving the customer experience. For them, it's all about the magical moment when the customer opens the box. To get in front of those customers, marketing is key. 
Spicy Baboon sets itself apart with its unique designs, a brand personality that is unquestionably and authentically Aussie. By realising an opportunity of increased online shopping in 2020, the store has grown at a rapid pace. Its attention to product quality, customer needs and experience. Gaining traction quickly, its clever marketing gets in front of customers in the most memorable way possible. Looking for a gift? Shop here.