Important Update: Your Business Catalyst Site Will Shut Down 26 September, 2021. 
We'll start with the bad news first: in just under 10 months, your Business Catalyst site will lose all data and sites will be terminated – forever! 
Here is the good news: End-Of-Life does not mean end of run. Our talented web development team can migrate and host your website.

Your Easy Web Solutions can make the migration from Business Catalyst to WordPress easy.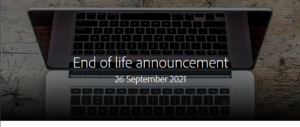 Not only this but: 
We can migrate your Business Catalyst data to your new site

We use recommended content management system, WordPress

We've designed thousands of high-performing websites

We can integrate sophisticated PlugIns to help your business grow

– from WooCommerce to Shopify

We've been helping businesses with their web development and hosting since 2007 –

back before BC was even owned by Adobe. 
The bottom line:
With YEWS, you'll have everything you need for your business to grow without losing any of what made your Business Catalyst Site special.
Realising just how much this could affect business owners,  Adobe Business Catalyst has extended the End-Of-Life date from 26 March, 2021 to 26, September 2021.
Get in early to ensure the process is as seamless as possible and no data gets left behind.
Looking for an easy way out? 
Looking for inspiration? 
Check out our work for these happy clients.