Landing Pages Explained
Proven Way To Increase Your Conversion Rate
The whole idea of landing pages is to focus on one particular are of the business. The concept underlines being niche specific particularly when it comes to marketing online.  This concept is ideal when you are looking at ways to increase your conversion rate or performing split testing.
Components That Make Up Landing Pages
The landing pages are made of the following components:
Headline (attention grabber)
Sub headline (call- to-action)
Short outline (copy)
Benefits (what problem is being solved)
Form/Button (data capture)
Credibility/Social Proof (awards and testimonials)
There are two main types of landing pages. The first and the most popular type is called lead generation page, where the focal action is performed instantly (download report, get a quote etc.) The second type of landing page is called a click through page. The whole idea is to rearrange the information in the shortest and most useful format to the end user. Many click through pages present the content using an alternative format such as video.
Landing Page and Site Navigation
The initial concept of a landing page is to get user to perform a single action (eg. click through or optin). Having navigation gives users too many options and disrupts the flow. So to get the highest conversion rates from a landing pages it is best to remove navigation menu completely.
Landing Page Tools
If you are looking for tools that can assist you with landing page setup her are the top 3 we recommend:
All these tools are great when it comes to simple landing pages which will definitely increase your conversion rates. You may however experience some difficulties if your lead generation model does not match one of the templates or requires template customisation.
Landing Page Assistance
If you are still struggling with your landing pages in terms of layout or implementation, feel free to reach out. We work with all of the above tools as well as raw HTML. Our preferred method of setting up landing pages is still WordPress. So if you are looking for help, fill out our contact page and we will be in touch.
Examples of Landing Pages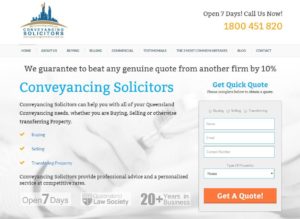 Have a look at this example of a landing page. This page is currently converting at 13% using Google Ads as a targeted traffic source.
This particular landing page has been setup as the home page, so it does include the navigation. There are additional landing pages setup throughout the website without the navigation menu and the conversion rate on some of them reaches 36%. The navigation menu is kept on the home page due to SEO and other user experience factors.
Summary of Landing Pages by Alexei