A little like a flu jab, the serious ramifications of COVID-19 arrived fast with a reciprocal sting felt by everyone. These digital marketing strategies were utilised by the most resilient business owners. From our results we've witnessed how these digital marketing strategies are like a jam-packed survival kit in times of crisis.
Today we share with you How Businesses Boosted Their Immunity To COVID-19- Part I: 
Keeping Customers Up-to-Date
The sudden enforcement of social distancing measures meant that customers, clients, patients, and stakeholders lost the opportunity to check-in face-to-face. Did you know that it can cost up to 5X more to acquire a new client than it does to maintain them? As everything changed (and continues to change), updates are fundamentally important in honing customer loyalty.
Here's why:
Updates are an opportunity to showcase customer service

Articulate your story, brand personality, and your value proposition

Show that you care and get an opportunity to get in contact

Update customers on new hygiene & business practices

You remind customers of your presence
Updates can be the conversation starter for lead-generation

Share an offer, 

Notify a product/service in demand (nearly out of stock/pre-order)

Launch new product or service (pre-order)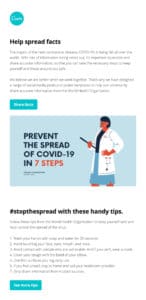 How: Email Direct Marketing Campaigns
This image was embedded in Canva's weekly newsletter. Canva's email marketing provided free templates to deliver value to customers and increase users. Strategies like these are why Canva, in June 2020, was valued at $8.77 Billion in the face of COVID-19.
Adapting to Online Processes 
In our office, we referred to the 'forced evolution' of businesses adapting to COVID. Digital and online processes were key to survival. It's actually the reason why the Queensland Government has allocated $100 million to the digital adaptation scheme. 
Throughout COVID our web development team was busy updating pop-ups that gave the low-down on new practices about everything related to hygiene,  'if you're feeling unwell' messages and alternatives for appointments (zoom, etc.). 
Across social media channels, Pins were the ideal way to ensure the message about new and/or updated hygiene and other COVID-19 related practices were stuck in place for followers. 
For businesses that weren't set up with eCommerce, this became a priority. For one of our clients, their eCommerce saw record sales over COVID-19. 
Not only can eCommerce assist online retailers, but the embedded payment functions also make digital appointments and account payment easy. 
Google My Business Listings 
Adjusting to COVID-19 may not have been easy but adjusting your GMB Listing to include things like Curbside Pick-Up or Delivery options is really easy. 
Curbside Pick-Up is like 'click and collect'. For this online retailer, it reassured customers feeling uncomfortable about entering the store. The customer can use eCommerce to pay ahead of time and simply pick up the products without stepping out of your car. 
—-
A common response we saw amid Australia's first-ever lockdown was panic. And amidst the pandemic panic, we heard murmurs of advertising collapsing. Lucky for us, our client base understood that pivoted Ad Spend was a much stronger move than cancelled ad spend. Withdrawing Ad Spend is like packing said survival kit and leaving it at home. Our clients' continued support meant we could do what we do best: monitor and zero in on successful strategies.
If you would like to speak with one of our team members about a more resilient digital marketing strategy please get in touch today.