We are often asked, 'what marketing tool do you use to get a quick win?' 
The short answer: It's not what you use but how you use it. It's all about how you're using the tools, not the tools, themselves. 
You might have read about the success someone is having from Google Ads, Email Marketing or Social Media and think, 'I really need to get on to that'. The secret to success is not about what someone else is doing, it's about deciding what your goals are and working backwards to finding the perfect tool for your needs. 
Evaluating what you want to achieve from your campaign – and being realistic – is integral to choosing how you'll target the target market. 
Perhaps you've set up a Google Ads account and it's not returning your investment? 
In this blog, we break down when and how to manage Google Ads to deliver results. 
Google Ads are a great way to generate awareness. Did you know that 95% of consumer decisions are subconscious?
This is why awareness via Google Ads is fundamental to building a memorable connection to your brand. 
Think about it from the consumer perspective: when you google something, you're just starting to gather information about a particular product or service. How quickly or slowly you decide on making a purchase or booking depends on what you're looking at. We have three essential ingredients to encourage the consumer to commit to your brand. 
There are three essential ingredients to a great Google Ad: 
1. Point of Difference (POD)
2. Call-to-action
3. Offer
Your POD is the most important part of your brand. The first reason is that it makes you unique and memorable which helps you to stand out from the crowd. Secondly, knowing your POD helps you to understand that of your competitor's – helping you to understand what they're doing and how to anticipate what they do, next. Lastly, knowing your point of difference means that you understand your brand from the inside-out. This can guide your process, ad strategy and your communication with your clients. 
You've probably heard or said it yourself, "I might think about it and come back later." It's more than likely that they/you won't actually come back. A CTA is all about avoiding this situation.
A call-to-action is key to encouraging immediate decision-making, commitment and follow-through from a purchaser. A great CTA will make the click-through hard to resist. When you're crafting yours, think about what the customer is looking for: is it a great deal? Are they researching new benefits and/or features? Or just researching the product and market?
Take this Google Ad for Securelux compared to its competitor: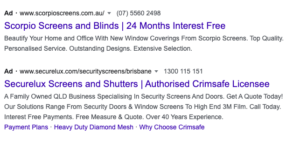 In just a few words, Securelux offers the customer a quote, an interest-free payment plan and details the quality, value and POD to its competitors as family-owned, highly-experienced business. and a Crimsafe Licensee.
The CTA is simple, encouraging customers to 'Get a Quote today'.
Why it works: offering instant service and something that is free, Securelux encourage customers to take the next step from researching closer to making a purchase.
In the above example, you can see that the offer makes a difference. A great offer focusses on your strengths. Checking out your competitors is a good place to start. Although, you don't have to match someone else's deal to cut-through to the client. Perhaps you can't match a 20% discount but you can offer free delivery. 'Free Delivery' is a great addition to your Google Ads. 
Long-term success is not about imitating or superseding these offers, rather it's about providing a solution to the client based on your strengths.
For example, this month, Practice Results is offering free Google Ads to help dental practices through COVID-19.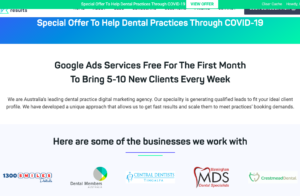 This is a great offer because: 
It's time-limited, encouraging clients to act quickly. 

It offers a solution to a problem; and

The 'view offer' button helps PR to identify what part of the page triggered the conversion. 
—
Our last piece of advice when it comes to Google Ads is to stay updated because things change quickly in the digital marketing space. We make it our business to stay in the know, so if you would like more information about Google Ads and our Google Ads Management, please get in touch.