Free Google Ads Account Review
Get your Google Ads account checked out by a certified professional.
Are you looking for ways to improve your Google Ads campaign? We can help you improve your account in the following areas:
Improve Your Conversions

Reduce Costs

Fine-tune Your Campaign

Get Targeted Website Visitors
Apply For Review
Complete The Form Below
Disclaimer: All information is kept secure and will not be shared or sold to any third party.
What Our Customers Say

I signed up for a Website Rescue Package with Alexei a couple of months ago as I was in need of some direction with my online marketing. Amongst other things Alexei helped me streamline my website, enhance my SEO and set up a Google Analytics plan, as well as helping me with facebook advertising and linking ads directly to my website. I ran my first campaign for 8 days which cost a mere $90 and signed up 7 new clients which in this market in a very good result. I'd like to thank Alexei for his step by step instructions which were easy to follow, easy to implement and very cost effective.

I highly recommend working with Alexei and his team. These guys are very knowledgeable when it comes to conversion optimisation and getting leads from Google.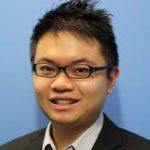 We met Alexei at a networking event in May 2013. We were impressed by the Google online marketing presentation. We now have a brand new website done by Alexei and his team. Thank you very much.