Looking For A Strong Start To The New Year?
Digital marketing is the only way to attract new customers to trades businesses.
With digital you get:
Controlled ad spend
Full tracking (calls and enquiries)
Ads targeting ideal clients at the best possible times
Set and forget campaigns that generate ongoing leads (if you engage a marketing agency)
See exactly what you get back for every ad dollar spent.
If you have run Google Ads, SEO or Social Media campaigns and didn't get the results you were hoping for, get in touch.
We're so confident you'll get new leads we've created a special offer, so you can try it and see what all the fuss is about.
Interested in how digital marketing can work for your business?
Our current offer is 50% off Setup and First Month Management Free.
We Offer A 100% Guarantee That You Will Get Leads
So if you are stuck wasting time trying to make Google work for you, don't worry.
Leave it to the experts, Call now.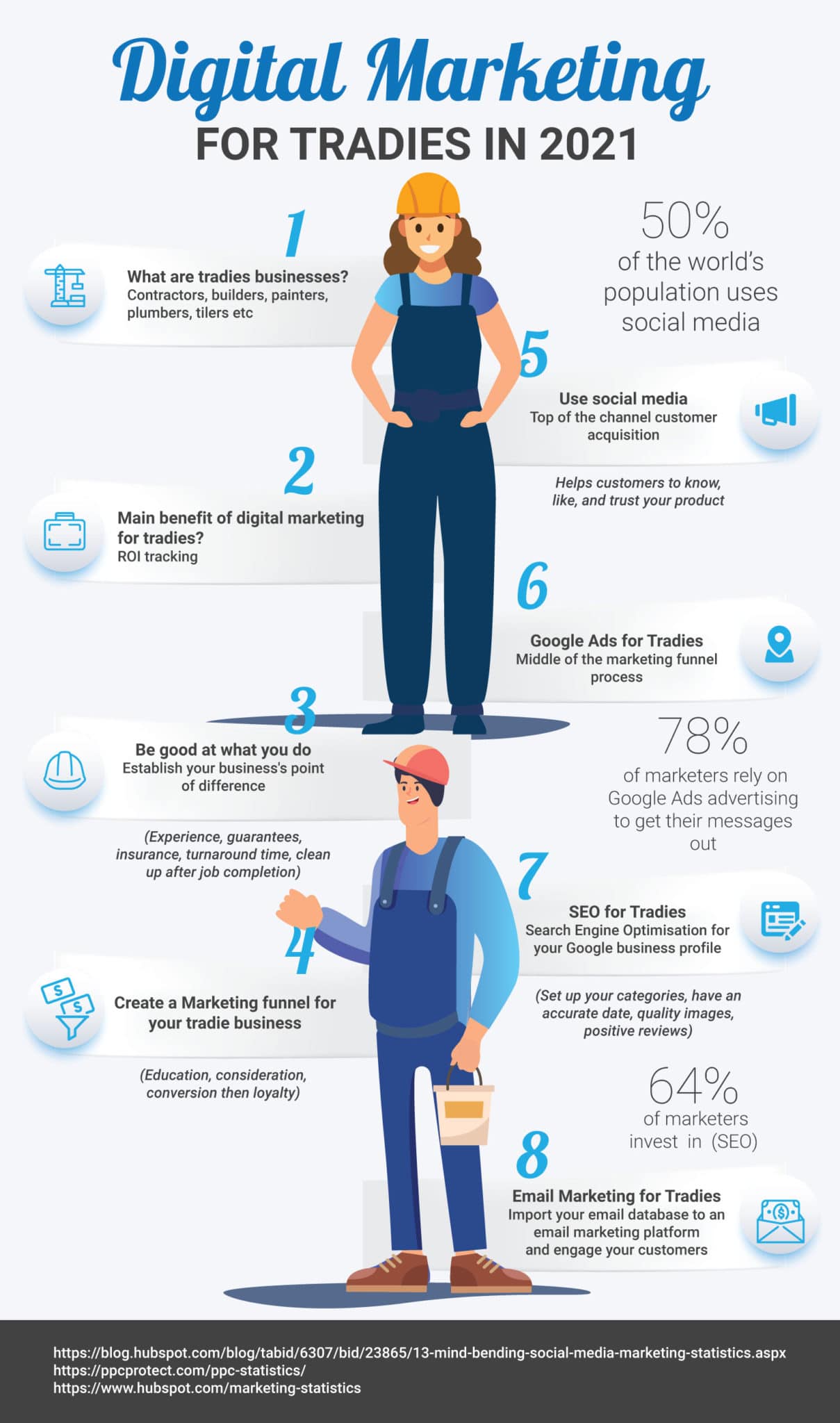 If you're a tradie, looking to promote & grow your business, then digital marketing is a must.
Whilst is it true that digital marketing will work to boost any business, digital marketing works particularly well for tradies because of return on investment (ROI) tracking.
Tradies (tradesmen) businesses include:
Contractors

Concreters
Roofers

Builders

Painters

Fencers

Plumbers

Tilers etc. 
What is ROI tracking? Essentially, it means that you are able to accurately track your gains for the dollars spent. For examples, a quality advert that promotes a free quote within 24 hours will result in more calls and enquiries. It is easy to link those enquiries – and resultant sales – back to the amount you spent on the advert.
The best digital campaigns are those that are aligned well with the sales process.
When it comes to any trade business, the starting point is always to be good at what you do. Thereafter, the sales process becomes more intuitive.
A key factor is your business' point of difference. What sets you apart from your competitors? It is how long you've been in business, your guarantees, your insurance, your turnaround time? One key selling factor for tradies is highlighting your team's cleanup after job completion.
Highlighting your business' point of difference is key when guiding potential customers through your sales or marketing funnel. This is what sets you apart and makes you stand out to potential customers.
How to use a marketing funnel for your tradie business.
The marketing funnel starts with education, then consideration and, finally, conversion and loyalty. This funnel determines how you use the different digital platforms to your best advantage to grow your business.
Social media can work for your business in many different ways. The idea is to qualify customers before they enter your marketing or sales funnel. Thereafter, it's a matter of drawing them through the funnel so that you can convert your leads into paying customers who will become loyal to your brand.
If you send out an advert on social media to people who have never heard of you, it's unlikely that you will get a lot of enquiries. This is because you are operating at the top of the marketing funnel, which should be about educating people about your business. If people haven't heard of your business, it is much less likely that they will respond to a call for action and make enquiries.
It all comes back to the concept of Know, Like, and Trust. If someone knows, likes, and trust your business, they will make enquiries. So it's important to use social media to develop the idea of Know, Like, and Trust in potential customers before trying to convert them to paying customers.
Many potential customers will conduct a Google search. This is in the middle of the marketing funnel, which is about consideration: they know what they are looking for, and they type in their query in order to find a particular provider. Google works particularly well in the consideration phase of the marketing funnel.
As a business owner, you are more than likely aware that digital marketing and advertising can vary greatly. There are many different platforms, networks and channels that you can use.
Google Ads for Tradies
When it comes to digital marketing, Google Ads is a great way to get quick results. We are able to get your ads to potential clients straight away.
Unfortunately, many people are of the opinion that Google doesn't work. However, this is almost always because they have tried to set up Google Ads themselves. And it's easy to make a pivotal mistake when trying to do something like this without the relevant background knowledge and experience.
The reality is that almost all established businesses use Google marketing in one way or another.
SEO for Tradies
Search Engine Optimisation (SEO) is a great way to get your business' name out there. The easiest thing to do is to set up your Google business profile. This is a free listing than enables your business to be visible to potential customers.
You need to make sure that you have set up your categories correctly, and include accurate contact information. The key is to include quality images and as much information about your business as possible.
This will rank your business on Google Maps, and will also rank highly on the mobile app. In order to get greater visibility and rank even higher, you need to accumulate more positive reviews.
Email Marketing for Tradies
Many business owners are not sure where to start when it comes to email marketing.
The easiest place to start is to create an email database from past customers. You can import this database from your accounting software, to an email marketing platform.
The key is to select topics that will connect with your past customers. A good idea is to send out an email thanking them for the support, and asking them for a review. In fact, this is one of the easiest ways to get reviews, which will in turn boost your Google ranking.
Email is a great way to let people know what you are doing over busy periods, such as the festive season. Even sending out seasonal greetings is a great way to remind people of your business.
It is much easier to get business from people and businesses with whom you've worked with previously. And email marketing is a great way to reconnect with past customers.
Digital marketing is particularly effective for trades business. And, most importantly, you can track exactly what you gain for the dollars you spend.
Need more information or have a question? We're offering free consultations. Get in Touch.
Do you have any questions about digital marketing for your tradie business? Please reach out to us for expert advice.